It's about time you double checked your home insurance policy terms and cover, if just for the peace of mind. Every year you've brushed off the suitably dire warnings from your favourite weather-girl, laughed at The Express foretelling yet another apocalypse and had a good moan about the train being late due to leaves on the line (or some other "reason")
Now though, it feels different. Bad storms and heavy flooding seem to have become a regular occurrence, and the thought of ringing up your insurers and hearing the words "Sorry, we can't cover you for the damage" makes you feel nauseous.
The Culprits
The main causes of wintertime damage are storms and the cold. Storms can directly damage your house and surrounding trees, causing branches (or even entire trees) to fall onto your – or worse, your neighbours – home. Indirectly they can cause flooding, which will lead to damage of both your home and possessions.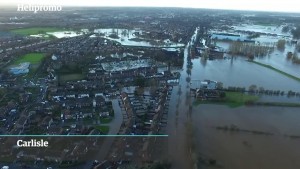 Classically, one always worries about frozen pipes in the winter (burst pipes, no heating and water – never good), but there are other problems you should be aware of. If there's enough snow you should be wary of collapsing roofs, tree branches and damage to cars. From a legal perspective: if a person slips and falls, whilst on your property, you could be liable.
What's Covered
Apart from the heartache and hassle, the cost of cleaning up damage can be huge. Policies will vary and it's worth closely reading the clauses, but in the UK, home insurance will generally cover:
Natural events such as storms and flooding
Fire, smoke damage and explosions
Vandalism
Subsidence
Vehicle collision
Falling trees
Water damage from leaking or burst pipes
Oil leaks from your heating system
Obviously not all of these are relevant to weather damage, but the majority are. In particular, flood insurance is now normally included as a standard part of your house insurance. Unfortunately it also rarely includes the contents of your home, unless you take out a specific home contents insurance policy. So if you live in a high-risk area it could be worth paying a premium.
Depending on your policy, your insurer may also cover structures outside your house (garden, garage, driveway, fences and walls).
What's (probably) not Covered
More insurers won't cover any damage caused by:
Frost (unless it causes damage through a burst pipe)
Leaking gutters
Replacing damaged belongings.
Again, don't take my word for it. Check your policy carefully and make a note of what is and what isn't covered.
The Curveball
If there's one thing likely to scupper your claim, it's the insurer claiming homeowners negligence – insinuating that you neglected standard care of your home, allowing it to withstand normal winter weather. Common negligence claims in the UK include:
Flooding – if you develop your land and it adversely affects the risk of flooding and causes damage to your, or your neighbours house, it's unlikely to be covered.
Pipes – if the insurance company believes that you didn't take adequate precautions (heating on, pipes drained, etc.) you may be denied coverage.
Trees – if you know that a tree or branch is at risk of falling, do something about it! If it's looking tenuous now, imagine what will happen if a gale hits it.
Reduce the Risk
Home insurance is just another arrow in your quiver. If something were to happen, and you didn't have insurance, you're either going to have to foot a very large bill or (even worse) you could be liable and potentially lose your home.
If you've decided to have a second look over your policy, it's worth talking to an insurance broker so you fully understand all the terms and conditions. Before you go, here are a few relevant questions you could ask:
If my home was damaged by a natural event, what is and what isn't covered?
Are contents covered? Is it "New for Old" or "Indemnity" cover?
Do they cover alternative accommodation?
"And remember, you don't always have to claim. If the damage is minimal and doesn't cost much more than the deductible, is it really worth raising your premium over?"
Andrew Dartford – MD at Regency Insurance Services
If there's anything you're not sure about, just let us know. We'd be happy to go through the detail with you and advise on policies and claims. Just give us a ring on 0208 690 8667