This year we really have become a nation of cyclists with 4.64 million of us hopping onto our bikes at least 3 times a week, according to the Cyclists Touring Club charity.
The meteoric rise of cycle chic is at least partly the result of champions such as Bradley Wiggins, Mark Cavendish and Lizzie Armitstead and the rest of the amazing British Olympic team on two wheels, who have inspired participation in competitive and leisure cycling.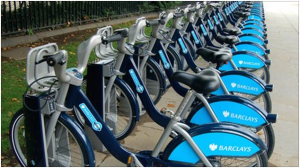 Then there's the ever popular London cycle hire scheme, Barclays Bikes (or Boris Bikes), which has been going for five years and now sport a bright red new paint job as Santander Cycles. That initiative alone encouraged a whopping half a million of us to make 7.4 million trips around London, between April 2011 and March 2012.
With the power of social media cycling events such as the World Naked Bike ride have gained plenty of "exposure" and further contributed to the growth of cycling as a hobby.
As a result of all of this media coverage we bought over 3.34 million bikes in the year following the London Olympics, that's over 1 million more than the number of cars sold in the same period (Cycleplan, 2015).
As well as being the coolest new pastime, there are plenty of other reasons to get on yer bike! Cycling is:
Often cheaper than using public transport
Always quicker than walking
Fun when you go on bike rides with friends
Supported by attractive offers through the government Cycle to work scheme
Of benefit to society by improving air quality and reducing noise
Using cycling as a safe way of getting around can be a challenge, it's both painful and expensive when things go wrong. But it isn't just extreme versions of the sport that can end in tears, insurance company Aviva has taken the time to identify the top 10 accident hotspots in London so you can avoid them or take extra care.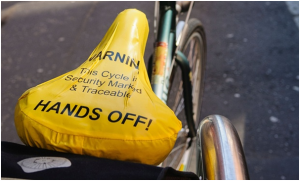 Serious injuries have increased amongst cyclists by 8.2% last year and more than half a million bikes are stolen every year in the UK . As a result sales of dedicated bike insurance have risen 75% in the last 6 years.
But all is not lost, there is a really simple way to make cycling as safe as possible for you – insurance companies are creating tailored solutions that meet the needs of the growing number of bike enthusiasts.
"I got a call recently from a customer looking to claim who didn't realise their 2 bikes worth £2500 each would not be covered on their home contents insurance. If only they'd spoken to us when they bought them we could have ensured they had the appropriate cover" Andrew at Regency
Everything depends on the type of riding you will be doing and the value of the gear you use. There are loads of different types of cycling and various bikes that best suit your cycling needs, such as:
It's always worth speaking to a broker who can help find the best cover for your individual needs, and answer these types of questions:
In cases where you are able to use your home insurance policy for cover it will demand that your bike is tightly secured to a fence or stored in a locked garage to be eligible for the cover.
Is your bicycle covered by your home insurance? Don't automatically assume this, as one in three policies don't provide cover if your bike has been stolen away from home
In cases where you are able to use your home insurance policy for cover it will demand that your bike is tightly secured to a fence or stored in a locked garage to be eligible for the cover.
Your insurance fully covers you in case of theft and damage, most insurers will only consider your claim if your bike was stolen whilst locked when left unattended.
What is on offer when you make a claim? Consider the sort of repairs and replacements available if and when your bike gets damaged.
Does your insurance cover any accidents you may be in, legal or hospital fees you may incur as the result of an accident in this country or perhaps whilst on holiday?
So, if you are an avid cyclist or thinking of getting involved, before you get on your bike – get on your phone to Regency!